---
Etc.
Note that more detailed subcategories can be reached via the menu bar above.
My Erdös number: 3
"On the Distribution of the Greatest Common Divisor," Persi Diaconis and Paul Erdös, Lecture Notes-Monograph Series , Vol. 45, A Festschrift for Herman Rubin (2004), pp. 56-61.
"Updating Subjective Probability," Persi Diaconis and Sandy Zabell, in Decision making: descriptive, normative, and prescriptive interactions, David E. Bell and Howard Raiffa, eds., Cambridge University Press (1988).
"Inventing New Signals," J. McKenzie Alexander, Brian Skyrms and Sandy Zabell, Dynamic Games and Applications (forthcoming).
Don Knuth and Me
Back in 1999, I spotted a typo while reading Knuth's Digital Typography. I sent him an email pointing out the error (it was a very minor one), and forgot about it. Within six months, I received a letter from him with a brief handwritten note — and a cheque for $2.56. This is one of my most prized possessions.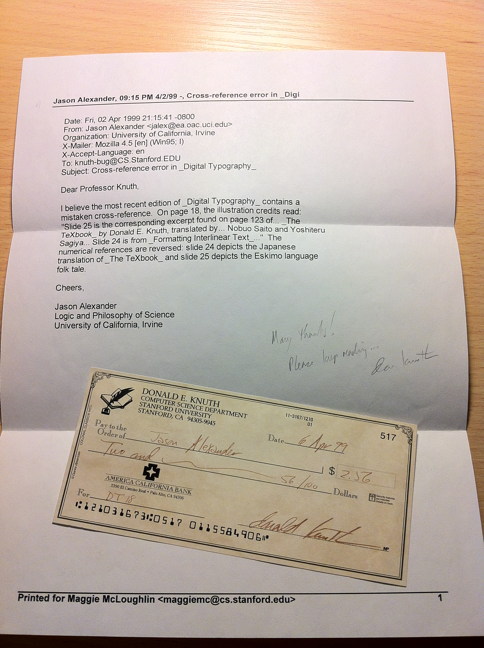 My one success at nonacademic publishing
In the fall of 2011, I emailed a cartoon idea to Dan Piraro, who writes the Bizarro comic strip. Much to my surprise, he liked it and decided to use it! Since I initially wanted to be a cartoonist when I was young (back before I wanted to be a mathematician or a philosopher), this made me happy. I like the socioeconomic commentary of it.